The term Bariatric surgery refers to the surgical procedures performed to reduce body weight. Weight loss is achieved by reducing the size of the stomach with a gastric band or through the removal of a portion of the stomach or by resecting and re-routing the small intestines to a small stomach pouch. There are many centers that provide the best Bariatric Surgery.
The most common bariatric surgery procedures are gastric bypass, sleeve gastrectomy, and Gastric Plication.
Gastric Bypass
In this procedure, the upper part of the stomach is converted into a small pouch which decreases the amount of food that can be taken at one time. This pouch is then connected directly to the mid part of the small intestine. This new anatomy bypasses the lower part of the stomach and the first part of the small intestine which delays the mixing of food with the digestive enzymes and hence results in malabsorption.
Sleeve Gastrectomy
Sleeve gastrectomy is basically a restrictive weight loss surgery that decreases the size of the stomach. Earlier this surgery was regarded as the first stage procedure of the more complicated operation known as biliopancreatic diversion. However, the excellent weight loss seen after this surgery together with the technical simplicity has made it the most popular bariatric surgery of recent times.
Gastric Plication
Gastric plication surgery, sometimes called pseudo-sleeve surgery, functions much like the gastric sleeve by creating a smaller stomach that restricts the amount of food you can eat. This is a novel bariatric surgery procedure wherein a part of the stomach is sewn with nonabsorbable sutures to reduce its size. The shape and volume of the stomach become similar to that seen after sleeve gastrectomy. Although the long-term data with this procedure are still not available, the short-term results are quite promising. The possibility of dilation of the stomach in the long term is a concern that has curtailed the popularity of this procedure amongst surgeons.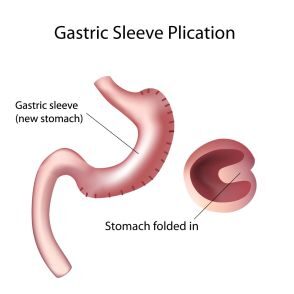 I will suggest, Dr. Achal Agrawal, for Bariatric Surgery because he is the best bariatric surgeon at Indore Laparoscopic center in Indore and also leads one of the best patient support group programs in central India.
Over 50 new patients every year choose to undergo treatment by Dr. Achal Agrawal. He is well known for providing advanced patient care. His Center has a state-of-the-art Operation Theater with the latest equipment and highly a qualified team led by Dr. Achal Agrawal, a prominent name among Bariatric & laparoscopic Surgeons in India.
For more info, you can visit our site and get a free consultation about Bariatric Surgery –